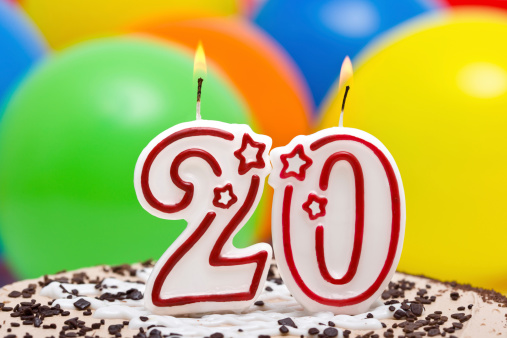 So, it's officially been twenty years since my first tonic-clonic seizure and the start of my epilepsy journey.  (I've also just celebrated a rather big birthday…but let's not talk about that!)  In honor of the occasion, here is a list of things that epilepsy has taught me…
 Life is tentative.
We are forever being told how 'precious' or how 'short' our time on this mortal coil is.  As cliched as these statements are, coming round from an episode of status epilepticus really hammers home their truth.  Our lives are made up of that tiny dash that will eventually exist between two dates on a gravestone, appreciate that while you are here and fill that punctuation mark with as much as you can.
Live like your epilepsy doesn't exist (as far as possible). 
This one will help you retain some semblance of 'normality'.  As far as I am able to, I try to make major life decisions as though epilepsy isn't a factor.  Yes, I might not swim alone (I'm completely uncoordinated anyway, so that's not exactly a loss), but I want to look at my overall situation and believe that epilepsy hasn't dictated the big things.  So I've managed to travel in spite of the uncontrolled seizures, I'm on my third degree because academia is the great love of my life, and I get up every day and try, even if that day all I am capable of is making a cup of tea.                                                   
But you still need to find a way to co-exist. 
Even if you don't let it dominate your life and your identity, epilepsy does still need consideration.  If you're intractable, like me, and if you end up with epilepsy chronically, it will become a separate aspect of yourself which you have no choice but to assimilate.  Your association with it becomes like a fluctuating relationship, perhaps like that between a parent and an unruly toddler, but a relationship nonetheless.  It's important to recognize that your feelings about the condition will be ever-shifting, and some days weeks and months will be worse than others.  Better periods will inevitably follow difficult moments, you are not the only one, hang in there.
Some people won't understand.
Dealing with such a stigmatized condition, means that sometimes you will encounter the judgmental and ignorant of this world.  Equally, you'll come across those who are well meaning…yet seek to control your life and journey with epilepsy.  It's tempting to project the negative back onto yourself or to absorb the 'advice' of those trying to clip your wings.  YOU are the one living with this illness, only you get a say in how you approach it.  Blank out the white noise and value yourself enough to step back from those who are not supporting your growth.
Those who do, will amaze you.  
I never cease to be astonished by the generous gestures my family and long time friends make.  Whether they are cooking for me, or helping me source an holistic option, or showing up at the hospital, they let me know they are in this with me.  My tribe are so truly precious.
(Irish girls!)
Your timeline won't always look like everyone else's, but that's okay. 
As much as a seek to deny epilepsy's power over me, sometimes it needs to be the centre of attention for a moment.  (Admittedly, I'm not so great at this!) This illness forces us to negotiate a unique set of challenges which can throw off our trajectory, but it happens and it's important to acknowledge that it's alright to step back when necessary.  Pace yourself, in the scheme of things, it matters little, you'll get where you want eventually.
The 'Big Moments' won't always be your big moments.
Those experiences that the media tells us to strive for, the iconic milestones to superficially emphasize – the prom, the graduation, the wedding – aren't always going to plan.  Epilepsy doesn't play by the rules.  I remember my school formal being preceded by weeks of intense seizure escalation.  There had been so many nights where I had barely slept.  I didn't want to miss the event, but thanks to epilepsy, I didn't have my hair professionally done like the other girls. Thanks to epilepsy, I needed to cancel my colour appointment a few days previously.  I managed to put on a little make up, but looked ghost-like, unlike all of my professionally tanned friends.  And, of course, thanks to epilepsy, I was also the first to leave, already feeling the threat of another seizure looming in the taxi home.  But, you know what?  Looking back, I made it there, and that was all that mattered.
Your 'Big Moments' will be the little moments. 
This is the thing that I love most about this epileptic life.  The most wonderful times of my life have been minute, ephemeral moments, moments that most would overlook.  The days where I laugh until I can barely breathe and just briefly forget about the burden of this illness.  The moments where I walk down the street and feel the sun on my face or the wind in my hair, when I stop to admire a fluttering butterfly.  Momentarily, I feel alive, I exist without fear of the unpredictable.  It might sound strange, but thanks to epilepsy, and the shadow world it's exposed me to, I really taste my coffee; I dance with more abandon; I care so much more deeply.  Everything is so much more intense that the smallest detail can make my day.  My closest friend tells me that she loves how I am 'always in the clouds', and in many ways it's this parallel universe of appreciation that posits me there.  It's the greatest gift that epilepsy has given me, a greater capacity to appreciate the light of this world, having glimpsed the darkness.
(With the little sis in Roma)
And on that note..if it's another twenty years, so be it.  I'm ready.
Ria
x